Murder in the Snow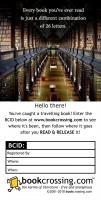 Registered by
rainbow3
of
Edinburgh
,
Scotland
United Kingdom on 12/3/2022
2 journalers for this copy...
Mrs. Bradley, sharp-eyed observer, celebrated psychiatrist, and amateur detective has decided to spend Christmas with her nephew Jonathan and his wife Deb at their beautiful new home in the Cotswolds. Upon settling in, the psychiatrist soon hears the story of a local apparition: the ghost of a country parson, it is said, can sometimes be seen at night slung over the gate leading to a grouping of trees called Groaning Spinney. Neighbours and locals visit Jonathan with seasonal greetings (for he has inherited, with the purchase of the large house, the mantle of village squire). Then the snow begins to fall — and a body is discovered.

It isn't long before further mysteries unfold. There are strange events occurring in the nearby wood and local villegers are receiving anonymous threating letters. Mrs Bradley is on the case and as she theorizes upon the source of the poison pen letters, she makes the acquaintance of the Inspector assigned to the suspicious death.

Weeks later, with the winter's thaw another discovery reveals itself. Finally requiring further proof of a theory she's developed Mrs. Bradley, knows she will have to hatch an ingenious plan to reveal the truth to find the culprit. As she gets into riding dress to accompany her nephew on a fox hunt, Mrs Bradley sets a trap that will flush out the guilty party and run it to ground.

Inevitably the inspector in charge finds himself both helped then almost hindered by Mrs Bradley's creative and gung-ho attitude toward beating evidence from the undergrowth when the case against the culprits stalls for lack of evidence.
[Text mix: book cover plus details gleaned online.]

'A delight. . . An amateur sleuth to rival Miss Marple.
GUARDIAN

MURDER IN THE Snow (aka Groaning Spinney) (Mrs Bradley, 23) by GLADYS MITCHELL (1950) | ISBN: 1784708321 / 9781784708320 | Publisher: Penguin, Random House (2017)
---
Involving storytelling. It did take me quite some time to get into the swing of this style but once settled this was difficult to lay down for long. Mrs Bradley has a notably steelier aspect than Mrs Marple and impressively Mitchell's pace is as assured as Christie's. This powerful mystery is by turns tragially devastating and comfortably uncomfortable. Many of the attitudes of the times are arresting (let's say) and turns of phrase delightfully dated, all serving to remind one that though times change humans at base are ever as they were. Highly recommended.

Have the next readers picked out for this so am marking as RESERVED.
---
Off into the post, Friday 27 Jan, to Flutterbies9 and already at its destination, —apologies for it's delayed arrival— a 2022 BookCrossing, Advent Book Box, containing this selection of eight books from my list of twenty-four:

1. —(2.) AN UNFORTUNATE CHRISTMAS MURDER - Hannah Hendy.
2. —(3.) THE MISTLETOE MURDER - P. D. James
3. —(4.) MURDER UNDER THE CHRISTMAS TREE - Cecily Gayford, Ed
4. —(6.) THE CHRISTMAS TRAIN - David Baldacci
5. —(7.) MURDER IN THE SNOW - Gladys Mitchell
6. —(11.) ANTHRAX ISLAND - D. L. Marshall
7. —(20.) THE ICE HOTEL - Hania Allen
8. —(23.) LOUISE'S CHANCE - Sarah R. Shaber
---
Journal Entry
4
by
Flutterbies9
at
Meare, Somerset United Kingdom on Monday, February 6, 2023
This arrived in a parcel from rainbow3 as part of the Christmas Advent calendar of books 2022. Thanks.

I often find that I like the 'old' Vintage Classic books and look forward to reading this.
---
Journal Entry
5
by
Flutterbies9
at
Meare, Somerset United Kingdom on Saturday, March 18, 2023
This did not sit on tbr for any length of time at all, and indeed I did enjoy this vintage story based in the Cotswolds.

I have not read any books by this author previously so the style was new to me as were the characters. However, it was not too difficult to follow the plot lines, especially as they were often voiced by the main character, Mrs Bradley, and the identities of the 'wrongdoers' was never in doubt either - just how they would be brought to justice. The flashes of beautifully described daily life and social life of the Cotswolds were vaguely familiar - although some are disturbing to todays audience - but so well described that it all seemed so 'normal'. Likewise the intricate descriptions of the surrounding countryside. In fact, the most odd thing for me which was completely unreal was the amounts of snow, even in the countryside, that are so well described. Mrs Bradley may be an amateur sleuth but she is not above crossing the line between legality and crime herself to catch a wrongdoer however always taking care not to directly involve others in her plots to flush out the culprits.

Although there was much to place this book in the time it was written, the sheer humanity of the interactions, and the why and how of the crime are unchanged even in these days and, in this authors hands, shine with understanding. I would read more of these from this author.

No actual plan for this book at present so I will make it available.
---