Hurray! The Bookplate Creator is back!
We've been promising it for a long time, and now it's finally here... We have a brand new Bookplate creator. Read all about it in this Announcement forum post!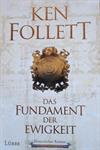 Das Fundament der Ewigkeit
1 journaler for this copy...
Buchrückentext

Wir hängten ihn vor der Kathedrale.
Er sah nur mich.
Er wusste, ich war für seinen Tod verantwortlich.

1558. Noch immer wacht die altehrwürdige Kathedrale von Kingsbridge über die Stadt. Doch diese ist im Zwiespalt zwischen Katholiken und Protestanten zutiefst gespalten. Freundschaft, Loyalität, Familie - nichts scheint mehr von Bedeutung zu sein. Auch der Liebe zwischen Ned Willard und Margery Fitzgerald steht der Glaubensstreit im Weg.

Als die Protestantin Elizabeth Tudor Königin wird, verschärfen sich die Gegensätze noch. Die junge Queen kann sich glücklich schätzen, in dieser schwierigen Lage, den treuen Ned an ihrer Seite zu haben - als Unterstützer und als ihren besten Spion. Die Liebe zwischen Ned und Margery scheint jedoch verloren zu sein, denn von Edinburgh bis Genf steht die Welt in Flammen.....


---