Providence Compendium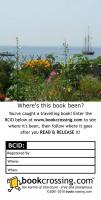 Registered by
GoryDetails
of
Nashua
,
New Hampshire
USA on 5/15/2022
2 journalers for this copy...
Journal Entry
1
by
GoryDetails
from
Nashua
,
New Hampshire
USA on Sunday, May 15, 2022
I got this softcover at Barnes and Noble. It's a collection of Moore's 12-issue graphic-novel series inspired by the works of H. P. Lovecraft.
Later: This was... pretty intense! A re-imagining of Lovecraft's works as if they were real-world incidents experienced by another man, who wrote them down and eventually showed his notes to Lovecraft himself, inspiring the stories... sound twisty? You haven't seen the half of it!
The story opens in 1919 New York, as investigative reporter Robert Black sets out to find a suitable little story to fill in the next newspaper. But he stumbles into an escalating series of incidents - all inspired by actual Lovecraft stories, though with names and details modified a bit, making this a fun "spot the reference" game for fans - that take him on journeys through New England and into some very dark places indeed.
Black is, among other things, a closeted gay man, who recently broke up with his lover "Lily" - and is distressed to find that "Lily" has committed suicide, via a special chamber apparently readily available for the purpose: he sat in a room where a Victrola played "You Made Me Love You", as gas was pumped in...
Black's grief and guilt don't prevent him from eyeing a number of attractive men on his travels, some of whom he hits it off with (sometimes quite explicitly), but the focus of the story is on his gradual acquisition of knowledge about strange and arcane goings-on which promise to lead to a complete rewriting of reality. For much of the story he's intent on putting these ideas into a book of his own, considering the things he's seen as hypnosis or drug-induced visions or - well, anything but reality. But, eventually, he can't deny what he's learned any more. And this happens at about the time he meets H. P. Lovecraft himself!
I enjoyed seeing how the various Lovecraft stories mingled with historical nods (the Boston Molasses Flood gets referenced at one point - with the ghouls that live below the city's ancient burial grounds appreciating the sweet treat) and with lots of meta-literary references as well. (Late in the story, literary critic and Lovecraft expert S. T. Joshi shows up!) As the story winds down there's a time-passes segment showing how Lovecraft's work went from niche/cult status to a pop-culture phenomenon, all of which was part of the plan all along...
The artwork is detailed and often highly explicit, whether depicting scenes of bizarre beings, monstrous and grisly crimes, or various sexual encounters (some voluntary, some very much not). In between the illustrated sections there are inserts showing Black's hand-written commonplace book - these included his own perspective on events we've already seen in the panels, but showing how he has interpreted them, and often bridging those events with wherever he's planning to go next. There are also some inserts of typewritten pamphlets as presented to our hero by other characters.
I found the section set in "Arkham" - here depicted as Manchester, NH, based on a casual mention in one of Lovecraft's letters - especially entertaining, as I visit that area often and even recognized some of the buildings. (I don't think that city resembles Lovecraft's Arkham very much, but it was fun to see the characters in locales I kinda-sorta know!) That said, the other cities - New York, Boston, Salem, and of course Providence itself - featured clearly-recognizable locations as well; props to the artist!
Overall, I enjoyed the book, even though it put our poor oblivious protagonist through several levels of hell! Oddly enough, the characters who survived to see the time when the stars were right were... strangely untroubled by the whole thing?
[There's a
TV Tropes page
on the comics, with some entertaining tidbits.]
---
Journal Entry
2
by
GoryDetails
at
Nashua, New Hampshire USA on Tuesday, March 21, 2023
---
Journal Entry
3
by
BookBirds
at
Somewhere in the USA, -- Wild Released somewhere in USA -- USA on Sunday, March 26, 2023
Wow, thanks so much for a wish granted! It's already waiting on the shelf next to the other Alan Moore's. I will write another entry when I have finished reading this. I really appreciate it!
---