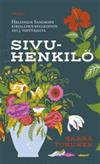 Sivuhenkilö
Registered by
Bookgeo
of
Pirkkala
,
Pirkanmaa / Birkaland
Finland on 11/8/2021
2 journalers for this copy...
Journal Entry
1
by
Bookgeo
from
Pirkkala
,
Pirkanmaa / Birkaland
Finland on Monday, November 8, 2021
Tammen pokkari, 2018, 236 sivua.

Takakannesta:

"Mitä jos asiat eivät menneet sellaisella tavalla, niin kuin Vihervaaran Annalla, että asutaan jossakin maaseudulla, paimennetaan vuohia ja lampaita ja on suuri talo, paksu tukka ja paljon lapsia? Mitä jos ne menivät niin, että kissa söi kerman ja maito happani kannussaan? Jos löysi itsensä asunnosta, jossa oli koiperhosen haju ja koukku katossa? Jos kevät teki tuloaan ja oli juuri kirjoittanut kirjan ja kaiken piti muuttua, mutta ihmisillä olikin laadukkaat sohvat ja puolisot, ja täytyy nyt mennä, he sanoivat? Mitä jos oli odottanut jotakin toisenlaista, jos kaikkialla oli vain hiljaista?"
---
Riemastuttavan inhimillinen kirja, pidin tästä paljon! Soljuvalla ja sujuvalla tekstillä kerrottuja tarkkoja havaintoja kanssaihmisistä puutteineen ja ansioineen sekä etenkin mainiota päähenkilön oman minuuden paljasta puntarointia. Lakonista huumoria ja toisaalta myös koskettavaa kommentointia ulkopuolisuudesta, irrallisuudesta sekä sinkkuuden ja lapsettomuuden itsessä ja muissa herättämistä tunteista. Paljon isoja teemoja, mutta vaivattomassa muodossa.
Luen tämän perusteella ehdottomasti Turusen Rakkaudenhirviönkin.
——-
Osallistun tällä kirjalla Delennan
Matkustan ympäri maailmaa -haasteeseen: Gambia
.
Sivuilla 214-215 käsitellään reissaamista Gambiaan. Itse tuskin olen tuonne ensisijaisesti pyrkimässä.
---
Journal Entry
3
by
Bookgeo
at
To Fulfill A Wish, A RABCK -- Controlled Releases on Thursday, January 13, 2022
Released 4 mos ago (1/17/2022 UTC) at To Fulfill A Wish, A RABCK -- Controlled Releases
CONTROLLED RELEASE NOTES:

Toivelukemista maijulille, ole hyvä. Mukavia kirjahetkiä vuodelle 2022!
---
Journal Entry
4
by
maijuli
at
Haapajärvi, Pohjois-Pohjanmaa / Norra Österbotten Finland on Saturday, January 22, 2022
Kiitos toivelistakirjasta, Bookgeo. Sain tämän jo keskiviikkona, mutta en tullut sitä heti kirjanneeksi.
---