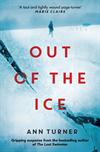 Out Of The Ice
Registered by
Nordpirat
of
Bromma
,
Stockholm
Sweden on 4/27/2021
This book is in a Controlled Release!
3 journalers for this copy...
When environmental scientist Laura Alvarado i sent to a remote Antarctic island to report on an abandoned whaling station, she begins to uncover more than she could ever imagine.
This freezing and lonely landscape should be uninhabited, and yet she increasingly comes to believe she is not alone.
As she comes face to face with the dark side of humanity, she also discovers a legacy of love, and the meaning of family.
If only she can make it out of the ice alive...
---
I bought this book at Gestbloms bokhandel (bookshop) in Enköping when I visited the town together with my spouse on our summer vacation in 2020.
The cool cover caught my attention and it made curious to read the story. I like to read stories that take place in the polar regions.

Both thrilling and interesting. On several occasions I broke off my reading to check up on things mentioned in the story, like the history of Norwegian whaling stations in the Antarctic. I checked maps and actually found a street view on one of them. The village in the book is a fictional one, but it's based on an historical whaling village Grytviken in King Edwards Cove on South Georgia Island.
The book surprised me a number of times. I made guesses on which turns the story would take, and then I was surprised when it went off in another direction.

This book will be travelling around as bookring!
Participants:
* Deepswamp (Sweden)
* Panzeranzi (Sweden)
* LeishaCamden (Norway)
* Paulanni (Finland)
*
* back to Nordpirat (Sweden)
---
Journal Entry
3
by
Nordpirat
at
-- By post or by hand/ in person, RABCK , bookring/ray, Stockholm Sweden on Monday, September 13, 2021
Released 4 mos ago (9/14/2021 UTC) at -- By post or by hand/ in person, RABCK , bookring/ray, Stockholm Sweden
CONTROLLED RELEASE NOTES:
At last it's time to send it out on its ring. It took me such a long time that one could almost believe it has been frozen inside an iceberg and had to melt out of there.
Happy reading all of you, and stay cool! (Sorry, I'll see myself out.)
---
Tack! Tack för dina fina ord!
Boken kom så perfekt även om den fick ta en extra tur!
Håller på att installera mig i Björkhagen, lämnar mitt hus i min sons och hans familj vård och flyttat till en bekvämare tillvaro 😉
---
Very interesting in many ways! Thanks for this chans to read it!!
---
Här kommer en spännande och intressant bok!
---
Journal Entry
7
by
Panzeranzi
at
Göteborg, Västergötland Sweden on Thursday, October 7, 2021
Tack!

October 17 2021
I enjoyed the setting of this thriller, so interesting to read about research stations and the history of whaling villages. I also googled and looked at pictures, fascinated by the lives lead by people up till the sixties.

Thank ypu for sharing!
---
Journal Entry
8
by
Panzeranzi
at
Göteborg, Västergötland Sweden on Wednesday, October 20, 2021
På väg till LeishaCamden!
---