Hurray! The Bookplate Creator is back!
We've been promising it for a long time, and now it's finally here... We have a brand new Bookplate creator. Read all about it in this Announcement forum post!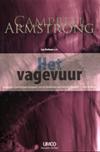 Het vagevuur
2 journalers for this copy...
Gekregen voor BookCrossing
Eddie Mallon komt thuis als zijn vader Jackie is vermoord. Eddie was nog een kind toen zijn familie in tweeën scheurde. Zijn moeder nam hem mee naar de Verenigde Staten; zijn zus Joyce bleef in Glasgow bij haar vader, de charmante, maar wrede Jackie Mallon. De muur die de plaatselijke politie optrekt rond het onderzoek dat wordt geleid door rechercheur Lou Perlman, maakt dat Eddie zijn eigen weg gaat. Eddie komt terecht in een draaikolk van geheimen uit zowel het verleden als het heden. En hij ontdekt dat het vagevuur, de plaats waarvan kinderen horen dat ze er naartoe gaan als ze een zonde begaan, nooit dooft. Ook niet na al die jaren.

---
Voor Meerloop

Goede reis, boek! En laat je nog iets van je horen?
Veel leesplezier voor de gelukkige vinder.

Farewell, book! Find pastures new! And please tell me about your travels...

Adieu, cher livre! Bon voyage! N'oublie pas de me raconter où tu vas!

Machs gut, liebes Buch, und melde Dich mal wieder!

---
---