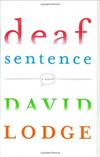 Deaf Sentence
3 journalers for this copy...
Pinched from my mum because I've seen it on someones wishlist!
---
Journal Entry
2
by
riffraff71
at
Turriff , Scotland United Kingdom on Wednesday, November 20, 2019
A Christmas gift, hope you like it!
---
Journal Entry
3
by
daffodil-2
at
Norwich, Norfolk United Kingdom on Monday, November 25, 2019
Received in the post today from riffraff71 as a RABCK. Thanks very much-I shall look forward to reading it asap.
---
Journal Entry
4
by
daffodil-2
at
Norwich, Norfolk United Kingdom on Monday, March 9, 2020
REVIEW:-"An, at times, amusing tale touching on two subjects I'm very interested in: deafness and dementia. I must admit that some of the information regarding linguistics and unfamiliar terms to do with it proved a bit boring in the early chapters so I did skim the story a little early on. However after that I stuck with it and even found myself laughing out loud once or twice. The author also made me feel sad a few times with his account of his father's slow decline into dementia and also when he charted his own declining hearing.
I felt indignant on his behalf when he was told by his son that he should "go to Auschwitz" against his better judgement when he didn't really want to go. Altogether a very readable novel and I would definitely read other books by this author.

Reserved for another bookcrosser.


---
Journal Entry
5
by
daffodil-2
at
Tunstead, Norfolk United Kingdom on Wednesday, August 11, 2021
This book was given to Snoopy56 when we met today for our first catchup since before the pandemic.

To the finder:-
Welcome to bookcrossing -you have found a travelling book. Please make a journal entry now to say where you found the book in case it has been moved. Then, when you have read it, please come back and make a further entry saying whether or not you enjoyed the book and why. It is now yours to do as you like with it, pass it to a friend or just leave it somewhere different for someone else to find and help it with its' journey. Of course if you can't bear to part with it at the moment then keep it, but please let me know that you have found it. If you join bookcrossing, which is free and spam-free, you can follow the book on its' travels as you will get an email each time it changes hands, but if you prefer to remain anonymous, that's fine too. Please also say what you intend to do with the book next. Thanks for coming onto the site to let me know you have found the book.

I already have books travelling in many countries around the world-a list can be found on my bookcrossing profile.

When re-releasing this book please be aware that airports are not a good place to leave books unless they have a specific book exchange shelf or area, due to security problems, so they may well just be disposed of. Also charity shops may well discard books that have been labelled in any way and they mostly chose only the books in the very best condition
to place on their shelves and discard the rest-so another bad release option.
---
Journal Entry
6
by
snoopy56
at
Ormesby St Margaret with Scratby, Norfolk United Kingdom on Saturday, August 28, 2021
I have read and enjoyed other books by David Lodge and am currently reading his autobiography.
---
Journal Entry
7
by
snoopy56
at
Ormesby St Margaret with Scratby, Norfolk United Kingdom on Tuesday, March 15, 2022
This is probably the most personal of David Lodge's novels that I have read and the author acknowledges that that the main character's deafness and interactions with his father are taken directly from his own experiences. I particularly liked the father and thought he was very sympathetically written. The plot was a bit hit and miss I thought. There were some funny passages but the weird student who was doing research into suicide notes was a bit odd.
---