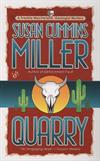 Quarry
Registered by
rainbow3
of
Edinburgh
,
Scotland
United Kingdom on 9/21/2019
This Book is Currently in the Wild!
2 journalers for this copy...
Geologist Frankie MacFarlane is drawn into a police investigation when the remains of her ex-fiance are found in the desert. And after a student and several of her colleagues are attacked, Frankie realizes she may be the killer's next target.
From, fantasticfiction.com

QUARRY (Frankie MacFarlane 3) by SUSAN CUMMINS MILLER (2006) | ISBN: 0-425-21488-5 / 9780425214886 (US PB) | Publisher: Berkley
---------------------

Registered QUARRY swiftly, in the early hours, with a BookCrossing ID number as I want to pass it onto another reader; while attending BLOODY SCOTLAND* yesterday I met another reader who hadn't come across Cummins Miller yet. Not an archaeological mystery as we were discussing rather a geological one I'm hoping still may be enjoyed. Also a de-cluttering need presses urgently, so as I've read it this book is easier to pass on. Off it travels!

*BLOODY SCOTLAND, Stirling, it's Scotland's International Crime Writing Festival! An annual and utterly brilliant two and a half day Book Festival at the end of September, this year it falls on Friday 20 till Sunday 22.

---
Journal Entry
2
by
rainbow3
at
Bloody Scotland venue in Stirling, Scotland United Kingdom on Saturday, September 21, 2019
Released 2 yrs ago (9/21/2019 UTC) at Bloody Scotland venue in Stirling, Scotland United Kingdom
WILD RELEASE NOTES:
Attending BLOODY SCOTLAND this weekend [see above] and am searching the crowds for the reader I sat beside on Friday at the keynote talk given by David Baldacci. When I see them I shall pass this book to them. …Meanwhile, best scoot 2 next author talk, continuing another exciting day at BLOODY SCOTLAND!
---------------------

QUARRY was very tough to put down! A brilliant new author for me, penning a novel with relentless pace and a battery of strong, fascinating characters. An arresting setting both in landscape; stunning with its own wilderness challenges, and profession terms in that the story requires we understand something of the academic acuity required to complete the task Frankie has set herself. Happily all delivered in language anyone can follow. Reassuringly easy to follow without having read the first in series, and though a cosy mystery both in format and appearance this resides further in the darker side of mystery fiction genre than I had anticipated. Which was a pleasing discovery.
---------------------

Hello book finder, if you aren't familiar with the BookCrossing world of TRAVELLING books – WELCOME!

Feel free to keep this book it is yours to do with as you wish, read it, or pass it on to keep it travelling. You can leave notes anonymously or if you journal this book as a member, you will hear from the book on its travels. If you do join quoting my name as your referrer would be brilliant. Thank you and HAPPY READING! Cheers rainbow3.
---
Journal Entry
3
by
rainbow3
at
Bloody Scotland venue in Stirling, Scotland United Kingdom on Wednesday, September 25, 2019
Released 2 yrs ago (9/22/2019 UTC) at Bloody Scotland venue in Stirling, Scotland United Kingdom
WILD RELEASE NOTES:
Extraordinary BookCrossing serendipity proves to be at play again!

While sitting waiting a my last book event of the festival starting I thought I would ask the person next to me if they wanted a book to take away. (Having not found the reader I talked to on Friday evening, so I could pass the book to them. )

I waffled on a bit, mentioned BookCrossing and my neighbour blinked at me in surprise - JOY turns out I was offering a BookCrossing book to another BookCrosser! Even more remarkable I am the first 'other' BookCrosser they had actually met! Wow, this made my weekend! I mean as if attending Bloody Scotland wasn't a huge enough thrill I have this extra, EXTRA treat!!! [Still beaming days after as I attempt to catch up with my updating of my weekends BookCrossing releases.]

My fingers are crossed then in the hope of a 'caught' Journal Entry from the Canadian Prairie's. Wonderful to meet you – happy reading!
---
Attended the "Bloody Scotland" crime writer's festival where I met a fellow BookCrossing member. She gave me this book to read and pass on. Very exciting. I had never met another BC before.
---

I met my first fellow Book Crossing participant at the Bloody Scotland Crime Writers Festival in Stirling back in September. She gave me this book. I read it during my vacation through other parts of the UK and enjoyed it enough that I took it home to Canada for my spouse to read. He has now finished reading it and I'll pass it along today. I am going to meet a friend for coffee and I'll leave it at my favourite coffee shop in my home town.
---
Journal Entry
6
by
Birta
at
Flatland Coffee Roasters in Gimli, Manitoba Canada on Wednesday, October 23, 2019
Released 2 yrs ago (10/23/2019 UTC) at Flatland Coffee Roasters in Gimli, Manitoba Canada
WILD RELEASE NOTES:

Left the book behind at Flatland where I meet up with my friend for the best latte in the Interlake region.
---