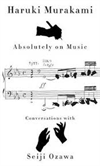 Absolutely on Music
Registered by
Alfa-Betje
of
Apeldoorn
,
Gelderland
Netherlands on 12/21/2018
4 journalers for this copy...
Journal Entry
1
by
Alfa-Betje
from
Apeldoorn
,
Gelderland
Netherlands on Friday, December 21, 2018
Dit boek bestaat hoofdzakelijk uit weergaves van gesprekken tussen Murakami en Ozawa over muziek. Ze beluisteren samen opnames en bespreken die. Daar stonden zeker interessante observaties in, maar ik denk dat dit boek meer gewaardeerd wordt door een lezer die de muziekstukken paraat heeft. Dat heb ik niet en de eerste hoofdstukken waren wel een beetje doorbijten, gelukkig volgde er nog een stuk over opera en het hoofdstuk over de masterclasses vond ik ook heel boeiend.
Ik vond het wel grappig dat Ozawa zijn dirigeerwerk als 'muziekmaken' bestempelt. Dat is natuurlijk waar, maar ik heb een dirigent nooit als een muziekmaker bekeken.

Ik heb dit boek uitgeleend aan een collega die ongetwijfeld de besproken werken paraat heeft. Daarna gaat het nog naar een andere collega voor wie dat ook zal gelden maar dan ga ik van dit boek een ray maken.
---
Journal Entry
2
by
Alfa-Betje
at
Apeldoorn, Gelderland Netherlands on Friday, November 29, 2019
Het boek is weer bij mij en gaat een reisje maken:
Hendrickje
Violoncellix
Paperfish
Iiwi & friends
(Volgorde mag aangepast worden)

Het boek hoeft niet terug naar mij.
---
Journal Entry
3
by
Alfa-Betje
at
Apeldoorn, Gelderland Netherlands on Wednesday, January 15, 2020
Gaat via de nieuwjaarmeeting met Hendrickje mee.
---
Journal Entry
4
by
Hendrickje
at
Amsterdam, Noord-Holland Netherlands on Saturday, January 18, 2020
Is nu bij mij; dank je hartelijk Alfa-Betje en leuk, je even te zien! Kijken, of ik het tegen de tijd van Castricum door kan crossen!

Lijkt me een interessant boek.
---
Journal Entry
5
by
Hendrickje
at
Amsterdam, Noord-Holland Netherlands on Friday, February 14, 2020
Ik heb van het boek geleerd dat er van eenzelfde pianoconcert (Het derde pianoconcert van Beethoven in dit geval) enorm uiteenlopende uitvoeringen kunnen worden gemaakt en dat er zoiets bestaat als een "Europese uitvoering". Fijn, dat je er dan even YouTube bij kan pakken.

Ik vond het boek niet altijd even boeiend, soms vind ik de heren, met respect, twee echte roddelooms. De bijdrage over masterclasses vind ik intrigerend, maar ik had wel wat beter uitgelegd willen krijgen hoe het Ozawa lukt een orkest te vormen met een bepaalde sfeer/geluid, van al die begaafde solisten.

Bedankt voor het lenen Alfa-Betje; ik cross het boek uiterlijk op Castricum door.
---
Journal Entry
6
by
Hendrickje
at
Amsterdam, Noord-Holland Netherlands on Monday, February 1, 2021
Mag verder naar violoncellix!
---
Journal Entry
7
by
violoncellix
at
Groningen, Groningen Netherlands on Saturday, February 6, 2021
Wat een mooie verrassing vanmiddag: een intrigerend boek én een mooie kunstkaart erbij. Ik ben erg benieuwd. Veel dank, Hendrickje!
---
Journal Entry
8
by
violoncellix
at
Groningen, Groningen Netherlands on Sunday, March 6, 2022
This week when re-organizing my bookcase I discovered that I still had this ring book. My apologies!

I enjoyed reading the conversations between authors Haruki Murakami and director Seiji Ozawa quite a bit. In the beginning I was sometimes a bit annoyed by Murakami's seeming desire to appear very knowledgeable about classical music, even if he was an amateur listener in conversation with a world-renowned director.

The chapter that I enjoyed the most was the one about Murakami visiting and listening in on Ozawa's yearly 10-day chamber music course for young musicians at the Lake of Geneva. Here Murakami describes his experiences over the 10 days. Here's a quote about the first few days:

On the first day I attended the seminar, I found myself growing a little nervous when I heard the students playing. Their performances sounded rough and awkward. Of course, this was only the second day since their group had begun making music together. I knew that it was unreasonable to expect polished performances under the circumstances, but still I had to wonder if they would go on to produce a concert-level performance in only one week. What I was hearing was very far from what we call "good music." Wasn't a week too short a time to bring this up to the level of a finished product, even for a mentor of Seiji Ozawa's abilities? These were not seasoned professionals, after all, but students.

"Don't worry, they'll get better every day," Ozawa declared with a smile, but I had my doubts. At that point, all I could hear were the imperfections, both in the string quartets and in the string orchestra. The Haydn didn't sound like Haydn, the Schubert didn't sound like Schubert, and the Ravel didn't sound like Ravel. They were playing all the right notes, but they weren't making that music.

Still, I continued to drive my somewhat underpowered Ford Focus wagon to Rolle every day. I made the rounds of the classrooms scattered throughout the property, listening intently to the young string players perform. I came to know all the movements of the seven string quartets and observed how they changed from day to day. I learned the names and faces of the students, and got to know their individual styles. Their progress seemed terribly slow at first, as if some kind of soft, invisible wall were blocking their way, and I worried that they would not be ready in time for the concert.

But then one day, in the brilliant summer light, some kind of silent spark seemed to leap among them. In both the daytime quartets and the evening ensemble, their sound suddenly began to come together. It was like a mysterious rising of the air. The performers' breathing started subtly to match, and their instruments sent beautiful reverberations through the air. The Haydn sounded more and more like Haydn, the Schubert like Schubert, the Ravel like Ravel. Each musician was no longer simply performing his or her part in isolation: they were all listening to each other. Not bad, I thought: not bad at all. Something was definitely coming out of this.
---
Journal Entry
9
by
violoncellix
at
Noordwolde, Fryslân (Friesland) Netherlands on Saturday, May 21, 2022
Released 1 mo ago (5/21/2022 UTC) at Noordwolde, Fryslân (Friesland) Netherlands
CONTROLLED RELEASE NOTES:
Dit boek reist eindelijk door naar de volgende persoon op de ringlijst: paperfish.

Veel leesplezier gewenst!
---
Journal Entry
10
by
paperfish
at
Noordwolde, Fryslân (Friesland) Netherlands on Tuesday, May 24, 2022
Vandaag ontvangen per post van Violoncellix. Ik was al helemaal vergeten dat ik me hier voor had opgegeven, dus ik vroeg me al af wat voor een pakketje dit kon zijn.
Ik ben benieuwd!
---