Wild Animus
2 journalers for this copy...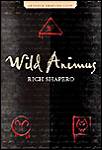 This is an Advance Reading Copy of "Wild Animus", sent free of charge to BookCrossing members all around the world. I received it in the mail today.
Cover text:
"In the summer of 1969 a disillusioned Berkeley graduate leaves behind a world of protests and riots to follow a wild, inner calling. Sam Altman is an intense young man whose unleased and increasingly unhinged imagination takes him first to Seattle and then father north, to the remote Alaskan wilderness.
Sam has fallen deeply in love with the mysterious and powerful Lindy, a young woman who understands his quest, and who will do anything to help him realize it, no matter how bizarre or dangerous. On the unforgiving ridges of Mt Wrangell, alone with his recless ideas and a driving need to uncover his innermost self, Sam, who has renamed himself Ransom, gradually transforms himself into a ram- prey to a pack of strangely familiar wolves.
The mad pursuit leads from the wilds to civilization and back again. And when Same and Lindy return to brave the perilous mountain together, the truth is behind his imagined transformation emerges. What they discover in those frozen heights threatens their love as well as their sanity and their lives.
Wild Animus is a search for the primordial, a test of human foundations, and a journey to the breaking point. This is a story of love and sacrifice, of obsession, of finding the limits of the heart and going one step farther."
TBR.
---
...as they say: "Never look a gift horse in the mouth". This gift horse being a free book, I had to look inside, though. I'm afraid, my opinion will not help promote Wild Animus much further.

Sam Altman is someone who deeply believes in a spiritual being called "Animus", which dwells inside a mountain in Alaska. He transforms himself into a ram called Ransom - wearing a fur coat and a headdress, and more importantly, taking drugs. He can contact this "Animus" by pressing a self-inflicted wound onto patches of ice on the mountain. Under the influence of his drug, he feels like the ram being pursued by a pack of wolves (which are supposed to be a metaphor for his girlfriend Lindy).

First of all: I would not have finished this book, were it not for the purpose of reviewing it here. I couldn't care less for Sam and his drug-induced fantasies, or for Lindy who - despite her rational thinking and her not quite understanding his purposes either - always succumbs to Sam's sexual approaches and still supports him in his obsession, financially and emotionally.

All the characters in the book are shallow. Sam's spiritual chants deeply move some of them, although they do not understand their meaning, but still they do not let them truly affect their lives. The only exception (apart from Lindy) is a young boy who apparently is easy to influence. Not that it matters, because episodes involving other people are ended very quickly.

It is evident from the early beginning, that Sam will have to sacrifice his life to his "Animus" god. The plot is boring to say the least, and the passages told from the ram's point of view (allegedly part of Sam's manuscript for a book, incidentally called Wild Animus) are something I cannot relate to at all. Well, perhaps that is because I'm not on acid...

I'm not sure if I'd like to release it (even in a a global release event) because it conveys a strange form of spirituality that I would not like to promote.
---
Journal Entry
3
by
Herrundmeyer
at
Langer BC-Samstag in Esslingen, Baden-Württemberg Germany on Friday, June 24, 2005
Released 17 yrs ago (6/25/2005 UTC) at Langer BC-Samstag in Esslingen, Baden-Württemberg Germany
WILD RELEASE NOTES:
RELEASE NOTES:

I'll take this book to the "Long BC Saturday" in Esslingen. Maybe it'll find another reader among the active Crossers, or even attract a new member. Otherwise, it'll stay in the OBCZ Esslingen.
---
Member of the Christmas-Booktree-Event in Esslingen
---