Hurray! The Bookplate Creator is back!
We've been promising it for a long time, and now it's finally here... We have a brand new Bookplate creator. Read all about it in this Announcement forum post!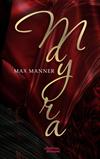 Mayra
Registered by
Flower78
of
Kerava
,
Uusimaa / Nyland
Finland on 5/8/2018
5 journalers for this copy...
Journal Entry
1
by
Flower78
from
Kerava
,
Uusimaa / Nyland
Finland on Tuesday, May 8, 2018
Takakannesta:

"Leskeksi jäänyt orkesterisellisti huomaa herättävänsä yhä kiinnostusta parisuhdemarkkinoilla, kun yksinäiset päivät saavat pikaisen lopun varakkaan rouvan viedessä miestä määrätietoisin ottein.

Myös suuri nuoruudenrakkaus Mayra, Espanjaan asettunut taidemaalari, ottaa yllättäen mieheen yhteyttä. Pariskunnan kohdattua uudelleen on kuin mikään ei olisi muuttunut - paitsi yksi asia ja sen mukana koko tulevaisuus.

Kymmenestä rikosromaanistaan tunnettu Max Manner on löytänyt uuden kirjallisen jäljen, mutta aikuisella tavalla romanttinen kertomus vie tälläkin kertaa kohti trillerimäistä loppua."
---
Tämä oli ensimmäinen Max Mannerin kirja, jonka luin. En tiedä oliko hyvä vai huono asia aloittaa tästä kirjasta, joka ei ole niin suuressa määrin rikosromaani kuin muut Max Mannerin kirjat.

Joka tapauksessa pidin tästä tarinasta. Tarina on pääasiassa surullinen ihmissuhderomaani. Toki kirjassa oli paljon positiivisiakin asioita, mutta päällimmäisenä jäi kuitenkin mieleen kirjan loppupuolen tapahtumat.

Kirjassa huomioni kiinnitti rintamasuunta-sanan käyttö, sitä käytettiin ainakin 4-5 kertaa. Yhdellä aukeamalla sana oli jopa molemmilla sivuilla. Taitaa olla kirjailijan lempisanoja. ;)

Täytyypä tutustua myös Max Mannerin rikosromaaneihin.
---
Saka74 kiinnostui tästä kirjasta ja saa tämän He_Ri:n järjestämässä miitissä. Hyviä lukuhetkiä!
---
Kiitos toivekirjasta! Mannerilta olen lukenut pari dekkaria ja Kadotettujen kahvilan. Kaikista olen tykännyt.
---
Olihan taas hyvä kirja Mannerilta! Pidin kovasti tarinasta, vaikka siinä olikin paljon surua ja murhetta. Jossain vaiheessa kyllä jo ajattelin, että eikö nämä murheet olisi jo riittäneet. Heikin elämä oli tuossa elämänvaiheessa kovaa, mutta onneksi oli Jouko - ystävä, joka on aina valmiina ystävänsä takia. Voi kun maailma olisi täynnä tällaisia ihmisiä! Kirjan henkilöistä tykästyinkin eniten Joukoon.
---
Miittiin tarjolle. Lukemisen iloa!
---
Miitistä, Helmet-haasteeseen kohtaan 8. yksivärinen kansi
Kirjaa suositeltiin muutenkin;)
---
Sain vihdoin tartuttua kirjaan, kun se sopii Sateenkaarivapautushaasteeseen. Tai ainakin minusta kannessa on violettia.
Tuntuu, että useimmin tämäntapaisen tarinan kirjoittajat ovat naisia(?). Huomasin ja huvitti huomata, että minua oikein ärsytti se miehinen itseluottamus millä tarina oli kirjoitettu (tai mikä oli päähenkilöllä). Ok kirja.
---
Journal Entry
9
by
thy
at
Riihimäki, Kanta-Häme / Egentliga Tavastland Finland on Sunday, August 28, 2022
Released 3 mos ago (8/28/2022 UTC) at Riihimäki, Kanta-Häme / Egentliga Tavastland Finland
CONTROLLED RELEASE NOTES:
Riihimäen miittiin
---
Journal Entry
10
by
Tarya
at
Riihimäki, Kanta-Häme / Egentliga Tavastland Finland on Monday, August 29, 2022
Nappasin Mayran eilisestä BC-miitistä Kulmassa, tarkoitus on toimittaa kirja eteenpäin tässä alkusyksyn aikana ;) Kiitos kirjasta, oli kiva nähdä pitkästä aikaa!
---
Journal Entry
11
by
Tarya
at
Tammela, Kanta-Häme / Egentliga Tavastland Finland on Thursday, September 29, 2022
Released 1 mo ago (10/1/2022 UTC) at Tammela, Kanta-Häme / Egentliga Tavastland Finland
CONTROLLED RELEASE NOTES:
---
Tammelan miitissä sain Taryalta kestokassillisen kirjoja, joiden lisäksi valitsin ihan itte muutaman tarjolla olleesta kirjakasasta :)
---