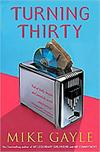 Turning Thirty
Registered by
Delphi_Reader
of
Δελφοί - Delphi
,
Fokida
Greece on 5/22/2017
This Book is Currently in the Wild!
3 journalers for this copy...
Journal Entry
1
by
Delphi_Reader
from
Δελφοί - Delphi
,
Fokida
Greece on Monday, May 22, 2017

This book starts its journey with Book Crossing from Delphi, Greece
_____________________________________________________________________________
"Unlike most people Matt Beckford is actually looking forward to turning thirty. After struggling through most of his twenties he thinks his career, finances and love life are finally sorted. But when he splits up with his girlfriend, he realises that life has different plans for him. Unable to cope with his future falling apart Matt temporarily moves back to his parents.
During his enforced exodus only his old school mates can keep him sane. Friends he hasn't seen since he was nineteen. Back together after a decade apart. But things will never be the same for any of them because when you're turning thirty nothing's as simple as it used to be."
~~~~~~To the person who found this book:~~~~~~
Welcome to BookCrossing.com, where we are trying to make the whole world a library!
If you have not already done so, please make a journal entry so we know this book has found a new home. Drop a few lines on where and how you found this book and what you thought of it. You don't need to join BookCrossing and you can remain completely anonymous. However, I encourage you to join so that you can follow this book's future travels. It's fun and free, and your personal information will never be shared or sold.
This book is now yours, and you can keep it if you choose, although I would love you to read and then share it. You can pass it on someone you know or release it once again in the wild, leaving it on a park bench, a phone booth, a hostel lobby...wherever you think it's suitable for the book to continue it's journey. If you pass it along, please make a release note to let others know where you left it.
I hope you enjoy the book!
---
Journal Entry
2
by
Delphi_Reader
at
Δελφοί - Delphi, Fokida Greece on Monday, May 22, 2017

This book starts its Book Crossing life from Delphi but it is well-traveled already.
Once upon a time, I was working in a Mark Warner resort in Paleros, Western Greece. In order to get on a decent book-store I had to go all the way to Lefkas, not that far away, but not easy to travel there frequently when working anything from 11 to 15+ hours per day, every day...
That's why often I was just reading whatever book our holiday-makers would drop in the lobby's bookcase or whatever other staff members were happy to lend me or give me as a gift-mostly Brit people our guests and staff. This is one of the many books I read back then that I don't think I would have chose to read by myself.
I read this genre very rarely nowadays and it's quite unlikely I'll read the book again. So, it possibly started its journey somewhere in UK, made it to Paleros, Greece, then followed me from Paleros to Delphi and remained on one of my bookcases for more than a decade. I think it is about time to release it and let it continue its journey.
I don't remember this book in detail, but I remember that it's about a man having short of a crisis turning thirty, behaving silly and immaturely. I think of it as a much more light and silly version of a book Nick Hornby published a few years later, called "High Fidelity". Mike Gayle mainly writes the equivalent of "chick-lit" for men, a genre that some people call "dick-lit" or "bloke-lit", although the term doesn't come up very often. I think both this and chick-lit mainly should be named as "silly-lit genre" but anyhow...
This book is a very light read and it might suit someone else's reading preferences more than mine...It might be a good option as a beach read or for someone looking to pass some time on a train journey or similar. Thus, I will release soon and... HAPPY READING!
---
Journal Entry
3
by
Delphi_Reader
at
by Post, A RABCK -- Controlled Releases on Friday, May 26, 2017
Released 5 yrs ago (5/26/2017 UTC) at by Post, A RABCK -- Controlled Releases
CONTROLLED RELEASE NOTES:
---
This book sounds like it's right up my alley. I don't know if you chose it because of that or not, but I will be turning 30 this year, so it couldn't be more fitting. ;)
Will be fun to explore some "dick-lit" hehe.
Oh and I do have Bick Hornby's High Fidelity that you, Delphi_Reader, mentioned here at home, so it will be nice comparing those two books as well. :)
---
I FINALLY got around to reading this (it was about time!) and while it really is funny I am just glad I didn't read it when I was turning 30 myself. I probably would have ended up feeling bad for not being as concerned as Matt. :D
---
The recipient seems to like chick-lit, so how about some dick-lit? ;)
Happy travelling, dear book and happy reading, new reader!
---
Journal Entry
7
by
rodespringbal
at
Roosdaal, Vlaams-Brabant / Brabant Flamant Belgium on Saturday, February 13, 2021
a wishlistbook :-) a lovely surprise thank you very much
---
Journal Entry
8
by
rodespringbal
at
Roosdaal, Vlaams-Brabant / Brabant Flamant Belgium on Saturday, January 7, 2023
Tried to get into the story but not really... so will travel again
---
Journal Entry
9
by
rodespringbal
at
MPC-Sint Franciscus sportzaal/zwembad in Roosdaal, Vlaams-Brabant / Brabant Flamant Belgium on Saturday, January 7, 2023
Released 2 mos ago (1/7/2023 UTC) at MPC-Sint Franciscus sportzaal/zwembad in Roosdaal, Vlaams-Brabant / Brabant Flamant Belgium
WILD RELEASE NOTES:
Safe travels
---