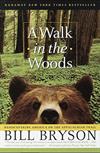 A Walk in the Woods
Registered by
perryfran
of
Elk Grove
,
California
USA on 2/28/2016
2 journalers for this copy...
Journal Entry
1
by
perryfran
from
Elk Grove
,
California
USA on Sunday, February 28, 2016

A Walk in the Woods Rediscovering America on the Appalachian Trail
Author: Bill Bryson

Back in America after twenty years in Britain, Bill Bryson decided to reacquaint himself with his native country by walking the 2,100-mile Appalachian Trail, which stretches from Georgia to Maine. The AT offers an astonishing landscape of silent forests and sparkling lakes--and to a writer with the comic genius of Bill Bryson, it also provides endless opportunities to witness the majestic silliness of his fellow human beings.

For a start there's the gloriously out-of-shape Stephen Katz, a buddy from Iowa along for the walk. Despite Katz's overwhelming desire to find cozy restaurants, he and Bryson eventually settle into their stride, and while on the trail they meet a bizarre assortment of hilarious characters. But A Walk in the Woods is more than just a laugh-out-loud hike. Bryson's acute eye is a wise witness to this beautiful but fragile trail, and as he tells its fascinating history, he makes a moving plea for the conservation of America's last great wilderness. An adventure, a comedy, and a celebration, A Walk in the Woods is destined to become a modern classic of travel literature.
---
I really enjoy Bill Bryson's writing. I know Bryson is considered by many readers to be condescending and arrogant (and he can be), but for me, I really love his descriptive prose and humorous anecdotes. I've read several of his books and A WALK IN THE WOODS may be my favorite so far. Bryson teams up with an old friend, Katz, to attempt to hike the over 2,000 mile-long Appalachian Trail (AT). Bryson has recently returned to America and is living in a small town in New Hampshire when he discovers that the trail runs close by his house. Well he decides to make the challenge and Katz is the only one he can get to go with him. They fly to Georgia and start at the southern end of the trail with 2,100 miles of scenic wilderness in front of them. Along the way they meet many others, some very eccentric. One of which is Mary Ellen who couldn't stop talking and criticizing most everything Bryson and Katz did including the equipment they brought along on the trip. The narrative was filled with Bryson's humor but it also was filled with his knowledge of everything from the history of the AT; the extinction of much of the flora in the east including many tree species such as the majestic American Chestnut; the wildlife in the area; Civil War battles; the forming of the Appalachians over millions of years; and on and on.
This was really an enjoyable trek with Bryson and Katz even though they didn't make it the whole way but Bryson did actually hike about 870 miles of it. One of my other favorite books by Bryson is A SHORT HISTORY OF NEARLY EVERYTHING in which he expounds on many different areas of science in a most enjoyable way. Both of these books provide a lot of natural history in a very pleasurable experience. The other Bryson travel books I have read are also very fun to read. There is also a
movie version of A WALK IN THE WOODS
which stars Robert Redford as Bryson and Nick Nolte as Katz. I watched it a couple of nights ago and really enjoyed it as well although it was trimmed some from the book. I'll be looking forward to more Bryson.
---
Journal Entry
3
by
perryfran
at
Wishlist Tag Game , A Bookcrossing member -- Controlled Releases on Thursday, June 23, 2022
Released 1 mo ago (6/24/2022 UTC) at Wishlist Tag Game , A Bookcrossing member -- Controlled Releases
CONTROLLED RELEASE NOTES:

Wishlist tag heading to spoiledrotten in NJ. Enjoy!
---
Journal Entry
4
by
spoiledrotten
at
Waldwick, New Jersey USA on Monday, June 27, 2022
Thanks for the tag. It has arrived safely and will be passed along to my daughter.
---