Hurray! The Bookplate Creator is back!
We've been promising it for a long time, and now it's finally here... We have a brand new Bookplate creator. Read all about it in this Announcement forum post!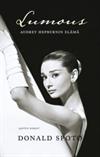 Lumous - Audrey Hepburnin elämä
2 journalers for this copy...
Celian kovakantinen poisto
suom. Ruth Jakobson. - Alkuteos: The life of Audrey Hepburn, ©2006. - Ajatus, 2009. - 336 s.; 16 kuvas. - 2. p.


www.adlibris.com (24.6.2014):

Audrey Hepburn (1929-1993) oli tyttömäisen charminsa ja viehättävyytensä ansiosta jäljittelemätön tyyli-ikoni. Hän oli britti-isän ja hollantilaisen paronittaren tytär ja vasta viisivuotias, kun isä jätti perheensä. Myös toinen maailmansota ja saksalaisten miehitys Hollannissa jättivät häneen arpensa. Englantiin muuton jälkeen Hepburn opiskeli balettia Marie Rambertin johdolla. Muutamien West Endin musikaalien ja elokuvasivuosien jälkeen kirjailija Colette löysi Hepburnin tähdeksi Gigi-romaaninsa näyttämöversioon, josta tämän ura nousi lentoon.

Valkokankaalla Hepburn debytoi prinsessana hurmaavassa elokuvassa Loma Roomassa ja voitti Oscarin. Hän jatkoi ainutlaatuisen viehkeänä ja hyväntuulisena monissa tunnustetuissa elokuvissa, kuten My Fair Lady, Aamiainen Tiffanyllä ja Robin ja Marian. Jonkin aikaa näytti siltä, kuin hollywoodilainen unelma toteutuisi Hepburnin omassa elämässä. Hänen avioliittonsa Mel Ferrerin kanssa ei kuitenkaan kestänyt. Hepburn avioitui ja erosi toisen kerran ja koki intohimoisia mutta lyhytaikaisia rakkaussuhteita, joista osa tulee tässä kirjassa ensimmäistä kertaa esille. Rakkaussuhteet eivät koskaan täysin onnistuneet.

Hepburnin synnynnäinen lumovoima ja pakottoman yksinkertainen esiintyminen valloittivat ihmisten sydämet kaikkialla maailmassa. Oscar-palkittu näyttelijätär omistautui myöhemmin UNICEF:in hyvän tahdon lähettilään tehtävälle. Donald Spoton näkemyksellinen, perusteellisesti taustoittava ja kohdettaan kunnioittava teos onnistuu tavoittamaan tämän lahjakkaan, kauniin, herkän ja saavuttamattoman naisen sielun.
---
Released 7 yrs ago (8/5/2015 UTC) at Kuopio, Pohjois-Savo / Norra Savolax Finland
CONTROLLED RELEASE NOTES:
Tuplakpl. Kiitos hyllyntyhjennysavusta!
---
Journal Entry
3
by
Soozreader
at
Joensuu, Pohjois-Karjala / Norra Karelen Finland on Monday, August 31, 2015
Kiitokset kirjasta!:)
---