A MESSAGE FROM BRUCE: Data Breach
Please read Bruce's important message here (or go to the Announcements forum by your normal route) about stolen BookCrossing data from 2013 and before.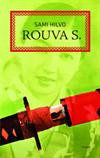 Rouva S.
Registered by
ruzena
on 12/7/2014
This Book is Currently in the Wild!
3 journalers for this copy...
Tammi 2012. 284 s.

Kirja oli nopealukuinen, mutta järjenjuoksuni tuli perässä. Alle 300 sivuun kirjassa oli kaikkea liikaa. Vaikka rakenne oli sillä tavoin selkeä, että lyhyehköt luvut oli otsikoitu aina puhujan mukaan, oli joskus vaikea hahmottaa missä ajassa liikutaan ja kuka oikeastaan on kuka. Parhaiten ymmärsin Rouva S:ää, vaikka ehkä ymmärtäminen on väärä sana.
Paikasta ei tullut epäselvyyttä, tukevasti Japanissa oltiin. Fanille varmasti paikat, sanat, tavat ja rituaalit ovat antoisaakin luettavaa.

Viinakortin ja tämän jälkeen oikeastaan kyllä odottaa Hilvon kolmatta kirjaa, kun nämä kaksi ovat niin yhteismitattomat.

-ruzena

---
Journal Entry
2
by
ruzena
at
Wishlist RABCK, A Bookcrossing member -- Controlled Releases on Monday, December 8, 2014
Released 7 yrs ago (12/8/2014 UTC) at Wishlist RABCK, A Bookcrossing member -- Controlled Releases
CONTROLLED RELEASE NOTES:
Kiitos kun toivoit!
---
Oi mikä ihana yllätys, kiitoksia! Viinakortista pidin kovasti, joten odotukset tätä kohtaan ovat suuret...
---
Minulla kävi tämän kanssa samoin kuin ruzenalle, en ihan koko aikaa pysynyt perässä enkä saanut kiinni kaikista vihjeistä. Siitä huolimatta Hilvon myöhempi tuotanto kiinnostaa edelleen.
---
---
Kiitos kirjasta! Tämä vaikuttaa kiinnostavalta ja pääsee lukupinooni.
---
Kirja vaati keskittymistä alkuun pirstaleiselta tuntuvan rakenteen takia. Lukukokemus oli kuitenkin kiinnostava ja kiehtovakin.
---
Journal Entry
8
by
lumipöllö
at
Tapiolan kirjasto, kierrätyshylly in Espoo, Uusimaa / Nyland Finland on Tuesday, August 16, 2022
Released 1 mo ago (8/16/2022 UTC) at Tapiolan kirjasto, kierrätyshylly in Espoo, Uusimaa / Nyland Finland
WILD RELEASE NOTES:
---