A MESSAGE FROM BRUCE: Data Breach
Please read Bruce's important message here (or go to the Announcements forum by your normal route) about stolen BookCrossing data from 2013 and before.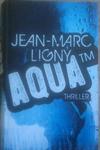 Aqua TM
Registered by
federsee
of
Offenburg
,
Baden-Württemberg
Germany on 5/27/2014
2 journalers for this copy...
Journal Entry
1
by
federsee
from
Offenburg
,
Baden-Württemberg
Germany on Tuesday, May 27, 2014
"2030: Tornados, Überschwemmungen, Hitze. Die Klimakatastrophe ist Wirklichkeit. Die Welt muss sich mit chaotischen Wetterbedingungen abfinden. Eine Sekte begeht mörderische Attentate, um die Ausrottung des vermeintlich Bösen zu beschleunigen. Bei der Sprengung eines Damms sterben Hunderttausende, auch Rudy verliert Frau und Kind. Als Flüchtling in einem Auffanglager macht er so schreckliche Erfahrungen, dass er beschliesst, Europa den Rücken zu kehren. Da kommt das Angebot, als Fahrer für eine Hilfsorganisation zu arbeiten, gerade recht. In Afrika, das unter einer tödlichen Dürre leidet, ist ein riesiges Wasserreservoir entdeckt worden, auf das ein amerikanisches Unternehmen Anspruch erhebt. Die Hilfsorganisation eilt dem afrikanischen Land mit Bohrmaterial zu Hilfe. Es beginnt ein Wettlauf gegen die Zeit, um das Lebenselixier für alle zu sichern ..." (Klappentext)

***

ein spannender Thriller, der das Ende der westlichen, von Weißen geprägten Zivilisation kommen sieht. Für meinen Geschmack war der Plot überfrachtet, vom (magischen? ;-)) Autorenwillen oft auf das gewünschte Ergebnis hingebogen. Am Ende lief es auf eine heiße Liebesgeschichte hinaus und andere wichtige Handlungsstränge blieben schlicht unaufgelöst. ☹
Das finde ich nicht überzeugend, zumal die Wasserthematik, weshalb mir das Buch sehr lange wichtig war, nur noch ein Aufhänger ist.
---
endlich ausgelesen (leider gab es arbeitsbedingt immer wieder Stockungen) kann das Buch jetzt zur Gewinnerin der Kategorienverlosung Juli "Umweltthriller / Dystopien" reisen.

Herzlichen Glückwunsch zum Gewinn der Verlosung! 💐📚
Ich wünsche Dir spannende Unterhaltung mit dem Endzeitkrimi!
(PS: sollte Dir das Päckchen äußerlich bekannt vorkommen: neben dem Inhalt hat mir sogar die Umverpackung schon beim Empfang große Freude gemacht, denn in dem Moment war das Problem beseitigt, wie ich diesen Wälzer verschicken kann! 😃)
---

Journal Entry
3
by
Ayandra
at
Drensteinfurt, Nordrhein-Westfalen Germany on Saturday, August 13, 2022
Vielen Dank für das Buch und den Beigaben. Ich bin gespannt.
---