Tales from Moominvalley
Registered by
Tarna
of
Tampere
,
Pirkanmaa / Birkaland
Finland on 5/24/2014
4 journalers for this copy...
Journal Entry
1
by
Tarna
from
Tampere
,
Pirkanmaa / Birkaland
Finland on Saturday, May 24, 2014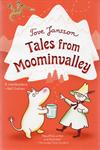 Text and illustrations by Tove Jansson. Published in Finland as
Det osynliga barnet
1962. (The original title is in Swedish. In Finnish the book is called
Näkymätön lapsi
and it was also published in 1962.) Translated by Thomas Warburton (1963). Moomin Books 6. New York, Square Fish / Farrar Straus Giroux, 2010. Paperback, 176 pages.
Cover art by Tove Jansson.
By the way, the first ever Moomin book —
Småtrollen och den stora översvämningen
(1945) — has never been published in English. Even the Finnish translation,
Muumit ja suuri tuhotulva
wasn't published until March 1992.
Blurb:
In
Tales from Moominvalley
nine delightfully funny stories reveal that the Moomin family aren't the only citizens of Moominvalley who have curious adventures.
***
Yet another 'different' Moomin book!
Tales from Moominvalley
is not a novel but a short story collections. Each of the stories in this collection is said to be a kind of psychological study on one type of character. Admittedly, I'm not that interested in psychological stories. I do, however, like
Tales from Moominvalley
very, very much.
To us Finns, Moomins are much more than just stories for children. Also grown-ups read, reread andenjoy them. So do also I. And I seem to find something new in them almost every time I reread a Moomin book. For Finns,
Moomins
are philosophic statements. In our minds, Moomin ideology includes tolerating and accepting diversity, being just what you are, etc. They also tell something relevant about Finnish and Swedish-speaking Finnish character.
That's why, I hope you share your thoughts after reading this book, especially if you're not Finnish. And, please, be honest. You don't have to like the book or the characters. I'd just like to know your opinions.
Tove (Marika) Jansson (1914—2001)
at Pegasos — A literature related site in Finland
Tove Jansson
at Wikipedia
Tove
at tovejansson.fi
Tales from Moominvalley
at Wikipedia
All Things Moomin
Moomin
at Wikipedia
Tampere Art Museum Moominvalley
Moomin Museum
at Wikipedia
---
Released 8 yrs ago (6/5/2014 UTC) at Tampere, Pirkanmaa / Birkaland Finland
CONTROLLED RELEASE NOTES:
Hyviä lukuhetkiä Muumilaakson väen seurassa!
---
Terveisiä Portugalista!
It's so great to feel the presence of Finland at home :-)
Thank you so much.
---
Sweet and refreshing. Everything I needed for these weird times.
I liked the fact that there are no lies in these stories. All characters are just what they are and there's lots of acceptance between them. The end of each story always makes one think about their own attitudes.
I truly enjoyed it.
Thank you for sharing. It will now be available for other readers.
---
The book will go to feltre next week, as my "one book a month offer" for the month of April 2020.
Enjoy :-)
---
The book arrived safely. Thank you very much!
---
---
Journal Entry
8
by
feltre
at
Homesick café in Athens - Αθήνα, Attica Greece on Sunday, November 27, 2022
Released 2 mos ago (11/27/2022 UTC) at Homesick café in Athens - Αθήνα, Attica Greece
WILD RELEASE NOTES:
Welcome to BookCrossing. Thanks for taking the time to visit the site. Please make a journal entry to let me know that you have found this book, you may do this anonymously or you may join. There is no charge to join this site, you may donate to help support Bookcrossing; but it is not mandatory.
Membership is free and your name and e-mail address is not shared with anyone else and it will never be sold. BookCrossing is a world-wide group of people who love books and wish to share them with others.
Please enjoy this book, if it is not your genre, pass it along to someone else or wild release it. In this way we promote literacy and at the same time we can watch our book continue on its journey.
I look forward to hearing what you thought of the book when you've read it, and to seeing what happens to it next!
---
Picked up at the monthly bookcrossing meeting Athens
---