The Autograph Man
Registered by
Yiremyahu
on 1/4/2004
This Book is Currently in the Wild!
5 journalers for this copy...
Not so keen on this one but you might like it...
---
---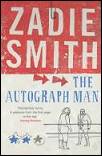 Thanks Jeremy, i've been looking forward to this ever since reading (and lovin') White Teeth
(16/04) - review to follow
(20/04)
Hopefully, this is Zadie Smith's 'difficult' 2nd book, which we can all put behind us, and hope for something more like the brilliant White Teeth next time? No that's too harsh…it's just a bit patchy, the characters are less immediately likeable (more complex?), and some of the themes are, to be honest, a bit heavy for my little brain to cope with! I can't believe that ZS is still not even 30 years old.
To break it down into parts:
Prologue
– where we are introduced to Alex-Li Tandem, his father, and friends. A brilliant start, I was grinning most of the way through this; the observation and the little character vignettes and back-stories are mouth-watering
Book 1 Kaballah
– it all went a bit wrong here for me, 200 'odd' pages about 'The Autograph Man', his dissolute life, his shallow soul-less (if not entirely God-less) existence. A lot of stuff about Jewish religion and non-Jews (goys) that I didn't really follow. Maybe I just didn't like the grown-up Alex? I preferred his friends, and would have liked to hear their 'first person' perspectives to add a bit of balance and some lightness possibly?
Book 2 Zen
– I won't give too much away, cos this is the crunch of the book, Alex-Li has his epiphany, gets his 15 minutes of fame, Alex-Li gets wildly drunk and is still hard to like, but we get some juicy hints from his shared past with friends, and we start to see a bit more depth, and to understand the whys and wherefores of what makes Alex tick
Epilogue Kaddish
- lovely ending, left me wanting more, and rueing the loss of pace & direction in the middle chunk of the book
This is still a *very* good book, but needs a bit more work from the reader, especially to see beyond the seemingly selfish and unsympathetic lead. I'd like to hear other views about the fame story, the father story, love, friendships & religion...quite a novel of ideas, some of it reminds me of Tim Lott's White City Blue?
---
Released on
Tuesday, April 20, 2004
at
to another bookcrosser
in n/a, n/a Controlled Releases.
Posted to Mary (Wistfuldragon) next in the chain. Enjoy
---
Caught thanks! Currently sitting third on my TBR. Yiremyahu, what should I do with it once I have read it (other than journal of course!) please?

NB Bookgroupman, shame on you for revealing what you believe to be my first name!
---
An interesting read, although not 'my type' of book. Some interesting insights into worlds I know little about. I doubt I will look out for anything else by this author, but this was a trip outside my genre, and I certainly won't refuse to read any Zadie Smith should one cross my path in future.
I think my main problem with Alex was his lack of structure and security; no real sense of him committing to anything; no real idea how large or regular his income is, which left me permanently half-panicking that he would run out of money and end up in a sticky situation; and no sense that he brought anything to the friendships he has, or that he particularly engages in them, except perhaps that with Adam. This was all rather frustrating, as despite all of his faults I actually liked Alex.
Anyway, off to Rainbowandrain soon.
---
Received with thanks! Will get down to it asap!
---
Unfortunately I preferred White Teeth to this but it was still an interesting book. Sometimes I found it difficult to read but on the whole I really enjoyed it. I have to agree with BookGroupmans comments that the characters are less likeable. I certainly agree- the only characters I really liked were Esther and Alex's dad!

But I will certainly be looking out for future Zadie Smith books.

This will be offered as a ray and if noone wants it I will release it!
---
Journal Entry
9
by
bookwormteacher
at
By Mail in sent to a fellow bookcrosser, Bookring -- Controlled Releases on Monday, June 28, 2004
Released on
Monday, June 28, 2004
at
... by mail :)
in Sent to a fellow BookCrosser, Bookring Controlled Releases.
Sent to talkland because I noticed it on their wishlist! Hope you enjoy it!
---
Thank you for this RABCK Kelly! It has arrive in good time for my holidays.
---
This book is just sooo dull! It started off with promise, however, the main piece fails to go anywhere, with little plot and unlikeable characters. I got the feeling that this was rushed out to capitalise on the success of White Teeth [a far superior novel].


---
Released 17 yrs ago (9/11/2004 UTC) at
WILD RELEASE NOTES:
RELEASE NOTES:


---