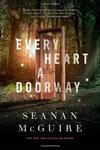 Every Heart a Doorway (Wayward Children)
5 journalers for this copy...
Eleanor West's Home for Wayward Children
No Solicitations
No Visitors
No Quests

Children have always disappeared under the right conditions; slipping through the shadows under a bed or at the back of a wardrobe, tumbling down rabbit holes and into old wells, and emerging somewhere... else.

But magical lands have little need for used-up miracle children.

Nancy tumbled once, but now she's back. The things she's experienced... they change a person. The children under Miss West's care understand all too well. And each of them is seeking a way back to their own fantasy world.

But Nancy's arrival marks a change at the Home. There's a darkness just around each corner, and when tragedy strikes, it's up to Nancy and her new-found schoolmates to get to the heart of things.

No matter the cost.
---
Taken to our annual BookCrossing Christmas brunch, for the wrapped book exchange.

First sentence: "The girls were never present for the entrance interviews."

---
Received this at the Calgary BookCrossing wrapped gift exchange.
---
I received this book at our wrapped book exchange last January. While I enjoy watching fantasy type movies (Harry Potter, Chronicles of Narnia etc) I've never gravitated to reading these types of books. This was a good introduction as the book was quite short and fast paced. The down side to that is that I felt that there was not time to properly develop the characters. Overall I enjoyed the book very much and found it to be an interesting premise of what happens to these kids if or when they return to the real world.
---
Taking this to the October BookCrossing meeting to be enjoyed by the next reader.
---
Journal Entry
6
by
megami-no-ushi
at
Calgary, Alberta Canada on Thursday, October 19, 2017
Picked up at the October meeting!
---
Journal Entry
7
by
megami-no-ushi
at
Calgary, Alberta Canada on Thursday, June 16, 2022
Taken to the Zoo meetup! I loved this series and binged the first 6 books, waiting for the 7th!

To the finder:
Calgary has an active group of BookCrossers that meet to swap books and discuss book crossing every second Saturday of the month at 11am at Cravings Market on Fairmount Drive SE. We always love to meet new crossers, so please join us any time you like!
---
Had a delightful meetup at Calgary Zoo. Had books displayed in trunks before the visit to the Zoo. There were THREE BookCrossing babies there! I ended up taking home more books than I was able to pass on!
---
Ah - this is what happen s to the children who ae different. Other worlds. I found the overlap of the worlds a bit confusing but that could just be my brain issues.
---
Had a lovely visit in rureading's yard to drop off books and pick up some new ones and bring some back. Lovely visit on a sunny but slightly cool day.
---

Enjoyed a patio get together with crossingguardma and sing-song. Exchanged a few books as well.
---