Dead Sleep
5 journalers for this copy...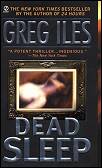 From the back of the book:
They are called the 'Sleeping Women,' a series of unsettling paintings in which the nude female subjects appear to be not asleep, but dead. Photojournalist Jordan Glass has another reason to find the paintings disturbing: The face on one of the nudes is her own -- or perhaps the face of her twin sister, who disappeared and is still missing. At the urging of the FBI, Jordan becomes both hunter and hunted in a search for the anonymous artist -- an obsessed killer who seems to know more about Jordan and her family than she is prepared to accept.....
This is my second book by Greg Iles, and he has become my new favourite! This book flows nicely with appropriate amounts of suspence and action. I absolutely love the way he tells the story and it is amazing how Iles can so accurately get into the head of a woman. The way he describes how Jordan Glass is feeling, what she is thinking...etc, you would never know it was a man writing about her!
A few things caught my attention in the book, though. I've recently only watched The League of the Extraordinary Gentlemen, and the book made references to at least three of the characters from LXG; Dorian Gray, Dr Jeckyll and Mr. Hyde, and Captain Nemo from 20 000 Leagues under the sea. I wonder if it's a coincidence....
I'd love to organize a bookring for this soon. Those who joined my bookring for 24 Hours might like to read this too! Will be taking names soon!
---
Please note that adjustments will be made to the list according to geography and shipping preferences.
Please PM the next person in the list for their shipping address once the book is in your hands so that you can send the book as soon as you finish it. And please make the journal entries and release notes for the book. Thank you!
(This list is not finalized yet.)
Bookring members:

AuntyJo -- Malaysia (int'l)
Ravenbear -- Australia (int'l)
Fantasma -- Portugal (preferably Europe)
vinyldoll -- Portugal (int'l) <==== received
suzen
-- France (preferably Europe)
tara-K
-- The Netherlands (preferably Europe)
DianeO
-- England (int'l)
kymberlie
-- TX, USA(preferably USA)
arugh48187
-- Minessota, USA(preferably USA)
kalipriestess
-- Florida, USA(preferably USA)
retc
-- New Orleans, LA, USA(int'l)
ladyofunicorns
-- New Mexico, USA (int'l)
babyimran
-- Malaysia
WittySquirrel
-- Malaysia
----
----
----
And back to me!
---
Released on
Sunday, October 26, 2003
at
to a fellow bookcrosser
in Kuala Lumpur, Kuala Lumpur Malaysia.
Released to first reader, AuntyJo!!
---
Received Dead Sleep today as a bookring from fellow bookcrosser, starbytes. Shall start on this today. Am absolutely sure that it will be as exciting as 24 Hours by same author.
---
I have just received this in the mail from AuntyJo. Thank you for the pretty bookmark!
I will endeavour to get this read asap, and back on its way round the world!
---
I enjoyed this book, though the basis for the plot, revealed at the end, was a little far-fetched. Sending it on to the next person in the bookring as soon as I get their address.
---
Sent this to Fantasma in Portugal a few weeks ago, and hope it gets there soon!
---
It finally got here!! I was starting to loose all hopes...
I'm anxious to read it, gonna start it right away. I hope it won't take too long!
---
Finished it!
I will certainly read more books by Greg Iles! I liked it very much, it was hard to put down. Just some things at the end that we could see that they were coming, and even though I always love happy endings, maybe it was a bit pushy...
But a great read, it was worth the wait... :o) thanks starbytes!

I'm waiting to vinyldoll's address, already sent a PM.
---
Released on
Wednesday, October 27, 2004 at about 7:00:00 AM BX time (GMT-06:00) Central Time (US & Canada)
at
Sent by mail
in Lisboa, Portugal Controlled Releases.
RELEASE NOTES:
Here it goes to vinyldoll. Hope you enjoy it as much as I did!
---
With me. I'll read it as soon as I can.
_________________________________________
Update

21st April: I haven't had time to read, but now I'm loving the book and I'm trying to end it by the end of the month.
Sorry for taking so long.
---