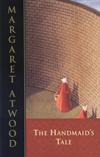 The Handmaid's Tale
Registered by
perryfran
of
Elk Grove
,
California
USA on 8/16/2011
2 journalers for this copy...
Journal Entry
1
by
perryfran
from
Elk Grove
,
California
USA on Monday, September 12, 2011
The Handmaid's Tale
Author: Margaret Atwood
In the world of the near future, who will control women's bodies? — Offred is a Handmaid in the Republic of Gilead. She may leave the home of the Commander and his wife once a day to walk to food markets whose signs are now pictures instead of words because women are no longer allowed to read. She must lie on her back once a month and pray that the Commander makes her pregnant, because in an age of declining births, Offred and the other Handmaids are only valued if their ovaries are viable.
Offred can remember the days before, when she lived and made love with her husband Luke; when she played with and protected her daughter; when she had a job, money of her own, and access to knowledge. But all of that is gone now....
Funny, unexpected, horrifying, and altogether convincing, The Handmaid's Tale is at once scathing satire, dire warning, and tour de force.
This is also No. 242 on the
1001 books you must read before you die list
.
---
The Handmaid's Tale
is a dystopian novel, first published in 1985. It is set in the near-future USA, somewhere in New England on what was formerly a university campus. The narrator is called Offred, which means she is the Handmaid or surrogate wife/mother of a Commander in the society named Fred. Offred shows us the state of the world by various flashbacks to her former life before the US became the Republic of Gilead. In this society, women cannot have jobs or money. They are assigned to various classes which include the chaste, childless Wives; the housekeeping Marthas; and the reproductive Handmaids who turn their offspring over to the Wives. There are also the Aunts who teach the Handmaids and who provide harsh punishment for anyone getting out of line. Offred longs to go back to her life before Gilead and wonders what became of her husband and young daughter. She becomes complicit in discussions with another Handmaid who may have a link to an underground where escape may be possible. There are also the Guards, men who act as eyes for the Commanders and there are frequent public executions with offenders hung from hooks on the wall around the compound.
This was really a scary and horrific novel that gives a very unpleasant glimpse of what could possibly happen if freedoms are eroded. Although this was written in the 80s and is somewhat dated, some of the scenarios seem to fit very well with some of the happenings in the world today; especially some of the far right beliefs that seem to want to limit the rights of women. I know that this novel has been adapted for television in a
series on Hulu
(which I have not watched) and Atwood has also written a recent sequel to this titled
The Testaments
. I may seek out the TV series and read the sequel at some point but this original novel is really a classic dystopian novel and should be included with such works as
1984
and
Brave New World
.
---
Journal Entry
3
by
perryfran
at
Wishlist Tag Game , A Bookcrossing member -- Controlled Releases on Saturday, September 5, 2020
Released 1 yr ago (9/4/2020 UTC) at Wishlist Tag Game , A Bookcrossing member -- Controlled Releases
CONTROLLED RELEASE NOTES:

Wishlist tag heading to rubyrebel. Enjoy!
---
Thank you so much for this wonderful
Book
---